Burkina Faso
Oryx Energies has been present in Burkina Faso since 2003, when we began the deployment of an ambitious Liquefied Petroleum Gas (LPG) distribution network. Today, we operate a network of service stations across the country and supply high quality lubricants to the market. Clients range from domestic end users to large mining and industrial customers.
As Burkina Faso is a landlocked nation, without its own energy or refining resources, Oryx Energies has the distinct advantage of having unique access to its sister companies' storage terminals in neighbouring Benin and Senegal. Oryx Energies has developed an integrated logistics organisation, with access to a modern fleet of vehicles, to ensure reliable product transport and monitoring from terminals in both Benin and Senegal right to its customers' premises in all areas of the country. With its tailor-made solutions, including on-site fuels and lubricant management, Oryx Energies has become a leading supplier to the local mining industry.
More details about Oryx Energies in Burkina Faso
Fuel distribution: Oryx Energies provides its industrial customers with gasoil and fuel oil, supplying depots located directly on client premises. Since we began the service in 2003, we have built a reputation for quality product and reliable service, leveraging our competitive access to Oryx Energies' terminals in neighbouring Benin and Senegal, as well as our logistics organisation.
LPG: One of the poorest countries in the world, Burkina Faso is one of many African countries where firewood and charcoal remain the main source of energy, despite massive deforestation. In response to this environmental challenge, Oryx Energies launched a major LPG drive in 2003.
Today, we are positioned as the number two distributor of LPG in the country, with a stock of over 460,000 Oryx Energies-branded cylinders. While we mainly supply LPG for domestic use, we have also developed bulk sales to local industries.
Lubricants: Since we entered the lubricants market in the country in 2007, we have increased our supply to consumers and industrial clients, including mines. We have significantly reinforced our market position since our sister company in Togo opened its state-of-the-art lubricants blending plant in 2011, enabling us to offer a wide range of high quality lubricants to the market, with short delivery times.
Retail network: We operate service stations throughout Burkina Faso. The first one opened in 2007, providing fuel, as well as Oryx Energies-branded LPG cylinders and lubricants.
Fuel sourcing: Our trading arm (Addax Energy) buys fuels from the term and spot oil markets for the government-owned oil company, Sonabhy, for redistribution on the local market.
Products and services:
Fuels

LPG

Lubricants

Retail network

Fuel sourcing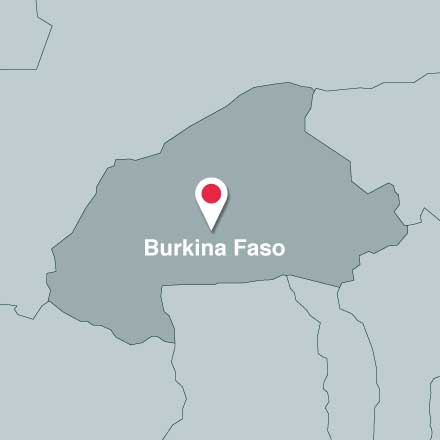 Key facts
7,780 M3

fuel storage capacity

Contact us for more info: info@oryxenergies.com