Senegal
Oryx Energies has been present in Senegal since 1989, when it purchased a maritime depot from Esso in Dakar. This marked the first downstream investment of its parent company, private investment group AOG.
Today, Oryx Energies runs an integrated oil supply, storage and distribution network in Senegal, including the sourcing of product through our trading arm, strategic storage and distribution for domestic and regional markets, offshore bunkering and, more recently, bitumen, to supply the country's developing infrastructure needs. Oryx Energies is also the largest crude oil supplier to the country's sole refinery (S.A.R.).
Our excellent reputation for the reliable provision of quality oil products and services is largely due to our integrated supply, storage and distribution model. This makes us a partner of choice for many commercial and industrial customers in Senegal, which require professional and reliable management of a package of energy needs, including fuels and lubricants (and bitumen for construction clients).
At the same time, we are fast building recognition with end-user consumers, thanks to our network of service stations and high quality lubricants.
More details about Oryx Energies in Senegal
Storage terminal: Oryx Energies has renovated and significantly extended its strategically located terminal at the entrance to the port of Dakar. The terminal has a storage capacity of just under 50,000 m3 and is equipped for easy access by truck tankers, ensuring rapid loading and delivery of diesel and fuel oil. It has an excellent reputation for its high-quality service, 24 hours a day, 7 days a week.
Fuel distribution: We sell product (mainly diesel, fuel oil and lubricants) to the domestic market, supplying retail service stations and large commercial and industrial customers. We also export fuels to nearby Gambia, Guinea Bissau and Mali from our terminal.
Lubricants: We have supplied lubricants to the Senegalese market for a number of years and have taken advantage of our state-of-the-art lubricant blending facility in Togo to expand our market presence. We are thus benefiting from this reliable supply of high quality lubricants for domestic, industrial and marine clients in the country.
Retail network: We have a growing network of Oryx-Energy branded roadside service stations as well as special sites dedicated to the supply of small fishing boats with motor gasoline.
Bitumen: We have been supplying bitumen to construction companies in Senegal since 2010, leveraging our trading arm's sourcing capabilities and our access to storage facilities.
Bunkering: We have built a reputation as an efficient and reliable provider of bunkering products and services. Inshore fuels are supplied directly from the terminal, thanks to our proximity to the wharf, while offshore supplies are provided through the bunkering service of our trading arm, Oryx Bunkering Services.
Products and services:
Fuels

Lubricants

Retail network

Storage

Bitumen

Bunkering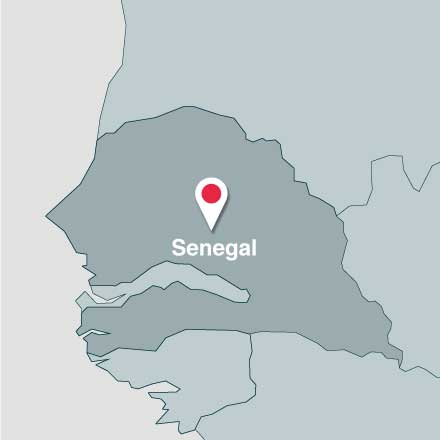 Key facts
# 1
crude oil supplier to national refinery
50,000 m3
fuel storage capacity
Where to buy?