Spain (Canary Islands)
Oryx Energies completed in September 2014 the construction of a fuel and gas oil terminal at Las Palmas in the Canary Islands, strategically placed on the main commercial route between Europe, West Africa and the Americas.
This state-of-the-art facility complies with Europe's strictest health, safety and environmental regulations. Designed to offer maximum flexibility and fast loading/discharging rates, it boasts over 220,000 m3 of storage capacity and provides access to a long, deep water jetty.

More details about Oryx Energies in Spain (Canary Islands)
Like elsewhere, our Las Palmas operation benefits from our integrated value chain approach. We offer bunkering products and services to ships and third parties through our trading arm (Addax Energy), professional storage facilities, as well as distribution capabilities to countries across West Africa via our network of sister companies. This enables us to guarantee the efficient and seamless provision of petroleum products and services to a variety of customers, across one of the fastest growing regions of the world.
We are thus in an excellent position to supply fuels and marine lubricants (including the range from our modern lubricant blending facility in Togo) to shipping operators, as well as delivering against our commitment to becoming the most integrated downstream operation in sub-Saharan Africa.
Products and services: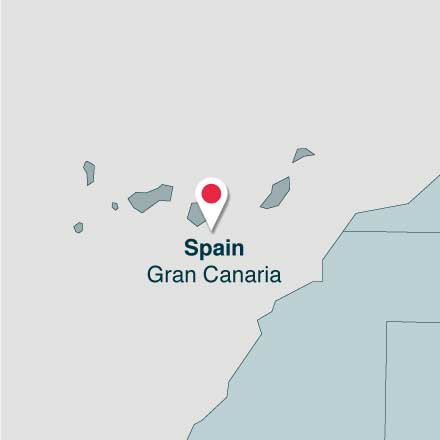 Key facts
220,000 m3

fuel storage capacity

Contact us for more info: info@oryxenergies.com