Côte d'Ivoire
Oryx Energies began its presence in Côte d'Ivoire in 2001, when it built service stations. These were later sold to the national oil company, Petroci Holding, in order to concentrate on Liquefied Petroleum Gas (LPG) storage, filling and distribution. We accelerated our penetration of the market in 2005, with the purchase of Shell's LPG business and assets, giving us a sizeable share of this fast growing market.
We have also supplied lubricants to the market since 2002, benefitting from the full range of Oryx Energies lubricants since the opening of our state-of-the-art lubricants blending factory in nearby Togo, in 2011. We are also building a number of Oryx Energies-branded service stations, in order to reinforce the accessibility and visibility of our products and brand in the country.
More details about Oryx Energies in Côte d'Ivoire
LPG: Oryx Energies is a major supplier of LPG in Côte d'Ivoire, operating in both the domestic and bulk LPG markets. Since we purchased Shell's LPG business in 2005, we have continuously invested in filling plants, storage units and LPG cylinders, ensuring a safe and reliable supply across the country and consumer categories.
Today, Oryx Energies owns an important storage capacity in the country, having completed a second storage sphere in September 2014. We also own filling plants in Vridi (Abidjan) and in Bouaké. Another filling station was built in 2016 in the East of the country, in order to respond to the growing needs of this important agricultural zone.
These developments are part of Oryx Energies' strategy of promoting LPG in sub-Saharan Africa, to help reduce the safety and environmental impacts associated with the extensive use of firewood, charcoal and kerosene as energy sources.
We serve domestic clients through an LPG cylinder distribution network located throughout the country. We also directly supply commercial and industrial sectors with bulk LPG, including the agro, food and metals industries, hotels and restaurants. Bulk services include the management of on-site storage facilities. This dual presence in the domestic and industrial sectors makes us one of the key players in Côte d'Ivoire's LPG market today, with a reputation for quality, safety and reliability.
Lubricants: Oryx Energies has supplied quality lubricants to the country's market since 2002, responding to the needs of service station networks, commercial and industrial customers, including marine lubricants for shipping clients in the port and offshore. Since 2011, we have benefited from an extensive product range and the reliable supply of high quality lubricants from our state-of-the art lubricants blending factory in Togo.
Fuel sourcing: Oryx Energies' trading arm (Addax Energy) is an active partner of Côte d'Ivoire's SIR refinery, where it sources a substantial part of its products destined for West Africa.
Bunkering: Oryx Energies formed Petroci Soutes, a joint venture with the national oil company, Petroci Holding, in 2002, to supply the growing needs of the onshore and offshore bunkering market. Despite the civil war, which had a serious impact on incoming maritime traffic, Petroci Soutes continued to invest, building a dedicated, large capacity, bunkering jetty in the Port of Abidjan. This highly efficient jetty has the capacity to handle over 800,000 MT of petroleum products per year and is connected to all storage terminals in the port. Petroci Soutes is thus in a unique position to benefit from the expansion of the economy.
Products and services:
LPG

Lubricants

Retail network

Fuel sourcing

Bunkering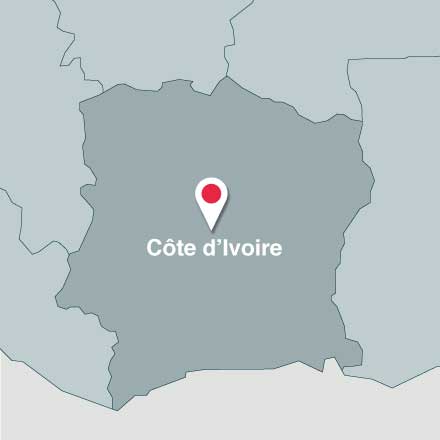 Key facts
1,370 M3

fuel storage capacity

5,460 MT

LPG storage capacity

Contact us for more info: info@oryxenergies.com